WWE News & Rumor Roundup: Former Champion meets rival company's top executive, legend apologizes to The Rock, Bayley's request for Brock Lesnar (October 18, 2021)
Welcome to another edition of WWE News and Rumor Roundup.
A former Universal Champion reportedly met with a top official from IMPACT Wrestling not long ago. Meanwhile, a two-time WWE Hall of Famer recently apologized to The Rock on Twitter.
Today's roundup also features Bayley's interesting request for Brock Lesnar, Roman Reigns' thoughts on the company, and what Sasha Banks said about her absence from SummerSlam.
Let's take a look at the latest developments in WWE:
---
#5 Braun Strowman meets IMPACT Wrestling's Executive Vice President
According to Mike Johnson of PWInsider, former WWE Superstar Braun Strowman (real name – Adam Scherr) recently met IMPACT Wrestling Executive VP Scott D'Amore this past weekend.
Their meeting took place in Detroit, where the two reportedly had a long chat. IMPACT Wrestling's Bound for Glory pay-per-view will take place on October 23, and Johnson noted that several surprises could be in store for fans.
There's no confirmation on whether both parties have reached a deal. Yet, one wonders whether Strowman will show up at the upcoming event as part of those reported surprises.
---
#4 Two-time WWE Hall of Famer Kevin Nash apologizes to The Rock
The Rock and Kevin Nash had a recent exchange on Twitter, where the latter apologized to the Hollywood megastar for treating him badly back in 2002.
At the time, Nash returned to WWE alongside Scott Hall and Hulk Hogan as part of the nWo just before WrestleMania 18. Hogan and The Rock faced off in one of the most popular matches at The Show of Shows in March 2002. That's why Nash crossed paths with The Great One a few times throughout that month.
In their latest Twitter exchange, the two-time WWE Hall of Famer briefly highlighted why he was a 'd**k' to The Rock back then. The Hollywood megastar's response made it clear that both superstars have no issues with each other today. They even traded compliments for their personal and professional successes.
Check it out below: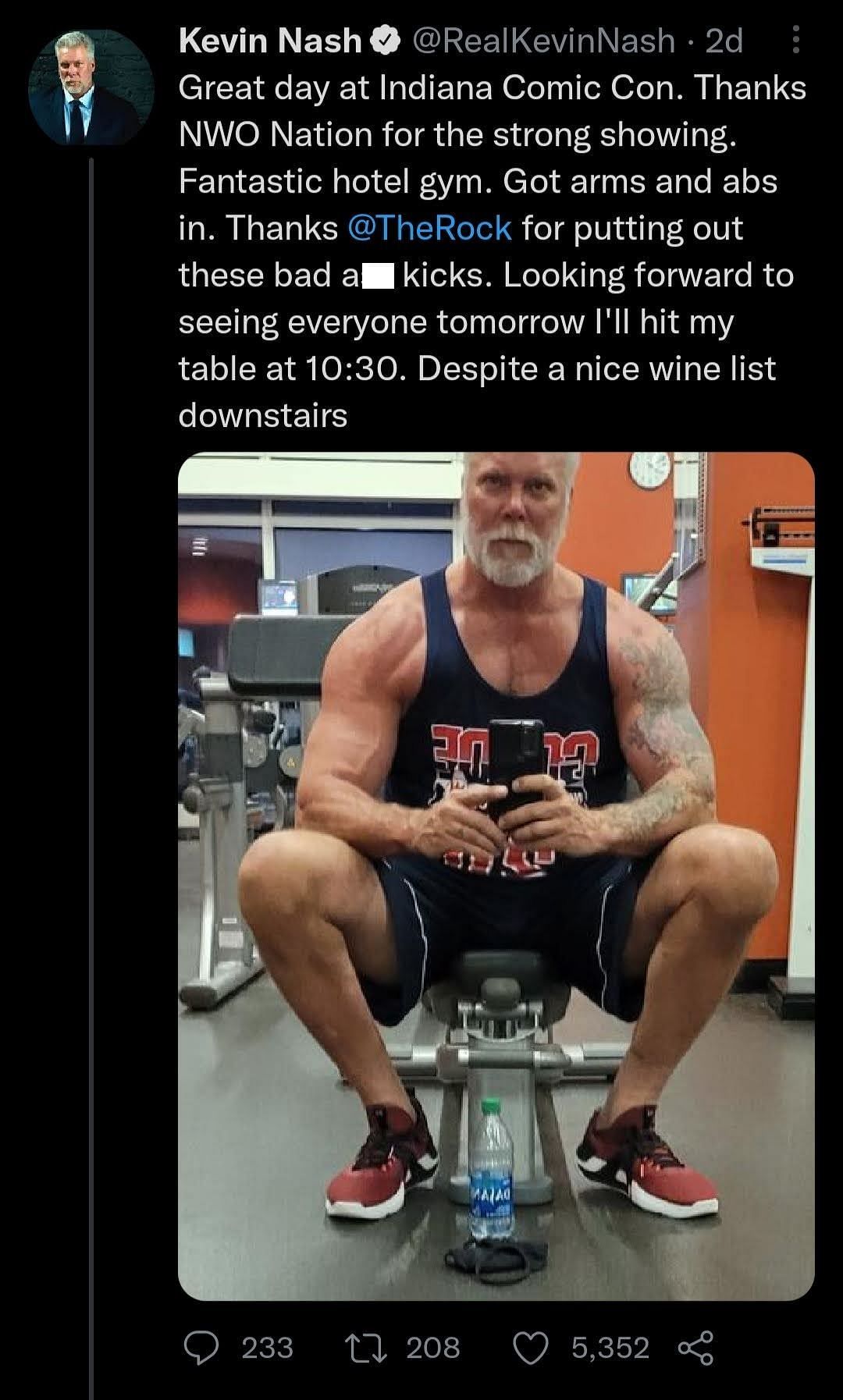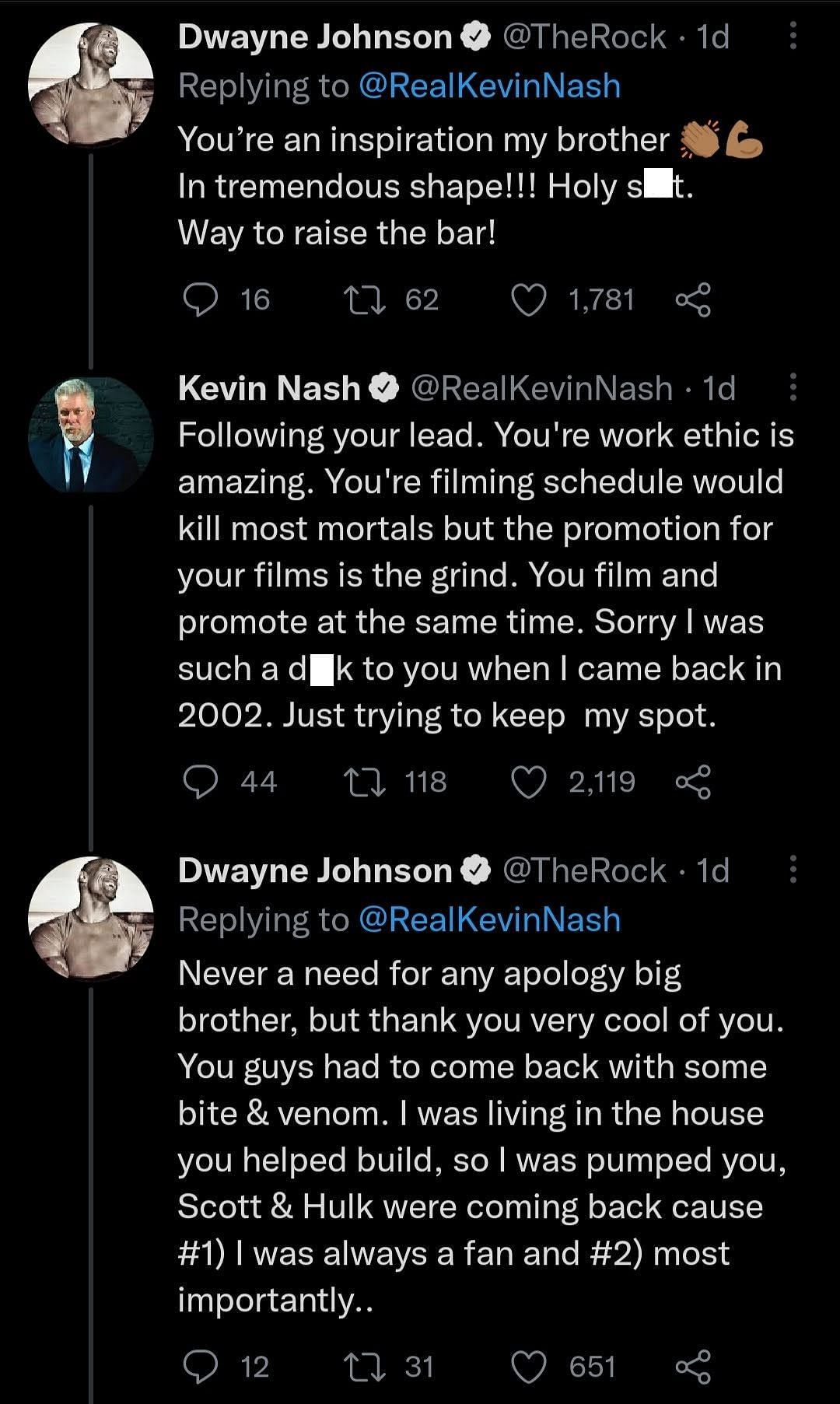 The Rock and Kevin Nash have fought each other on five occasions in WWE — two handicap matches, two tag team contests, and one singles bout.
#3 Bayley wants Brock Lesnar to hit Roman Reigns with a specific move
I'm so mad that I hope @BrockLesnar gives @WWERomanReigns a Bayley to Belly suplex!!!!!!!!!!!!!!!!!!!#SmackdownonFS1

— Bayley (@itsBayleyWWE) October 16, 2021
Brock Lesnar and Roman Reigns will clash at WWE Crown Jewel 2021 for the Universal Championship. Judging by Bayley's tweet above, it seems that she's supporting The Beast Incarnate!
Reigns and Lesnar's latest segment revolved around the contract-signing for their upcoming battle. The live crowd chanted 'Suplex City,' wanting to see the latter lay waste to the Universal Champion.
Lesnar ended last week's SmackDown episode by further adding conflict between Reigns and Paul Heyman:
"I already read the damn contract this morning ……. with my advocate Paul Heyman!"@BrockLesnar, what is going on?!@WWERomanReigns@HeymanHustle#SmackDown pic.twitter.com/x51R7IAUXo

— WWE (@WWE) October 16, 2021
Bayley's tweet was a reaction to this segment, where she said she hopes Brock attacks Roman Reigns with her 'Bayley-to-Belly Suplex'.
---
#2 What does Roman Reigns really think about WWE?
Roman Reigns on whether he sees AEW as competition (this will trigger few people): pic.twitter.com/uYbIdQUCjz

— Rohit Radhakrishnan (@rohitcr2k) October 15, 2021
Roman Reigns has publicly defended WWE during interviews, even dismissing AEW as not being 'real competition' not too long ago.
Bryan Alvarez of Wrestling Observer Live said sources told him that Reigns is a WWE lifer and a loyal soldier for the company:
"Roman Reigns, from everything that I have been told from people all over the place, is a lifer. You know that guy that stands up for WWE with tears in his eyes? Roman doesn't have tears in his eyes but when Roman Reigns defends WWE [and] I'm not saying that he doesn't disagree with some of the things that they do and that sort of thing. But this guy is a lifer and this guy believes much of what he says when he is standing up for and defending WWE. He is a very very loyal soldier in this WWE Universe," said Alvarez.
This doesn't come as a surprise, given Reigns' current success as a top villain in the company.
#1 Sasha Banks remains tight-lipped about missing WWE SummerSlam 2021
Relive when THE MAN came around to #SummerSlam! #SmackDown @BeckyLynchWWE @BiancaBelairWWE @CarmellaWWE pic.twitter.com/h0Nmn0cDfG

— WWE (@WWE) August 29, 2021
Bianca Belair vs. Sasha Banks for the WWE SmackDown Women's Championship was the original plan for this year's SummerSlam pay-per-view. However, Becky Lynch replaced the latter and defeated Belair to become the new titleholder.
When asked about why she missed the pay-per-view during a recent Q&A with the New York Post, Banks refused to provide any key details:
"I'm not telling you anything. (Laughs). You're not Oprah. You're not the WWE Network, you're not getting me the views. I'm not telling you my secrets. You can read my book. You can read my documentary when I want to speak about it," said Banks.
Banks will challenge for the SmackDown Women's Championship in a triple-threat match against Becky Lynch and Bianca Belair at Crown Jewel.
Banks recently gained momentum as she became the first woman in several months to pin Lynch. The question is, can she repeat the feat at Crown Jewel?