WWE Extreme Rules 2021 – 5 things we learned from the event
This year's Extreme Rules is finally in the history books. It was a pay-per-view that exceeded expectations by featuring some amazing matches on the card.
In the Kickoff show, we saw Liv Morgan defeat Carmella after a decent match. The first match on the card featured AJ Styles, Omos, and Bobby Lashley taking on The New Day.
Damian Priest managed to defeat Jeff Hardy and Sheamus at the event, after which we saw a mutual gesture of respect. Lilly's character seemingly met its end after Charlotte Alexa defeated Alexa Bliss. We also saw Sasha Banks make her much-awaited return at Extreme Rules.
Few more digitals from Extreme Rules #SashaBanks #WWE #ExtremeRules pic.twitter.com/94NWXGIz7M

— Legit Boss Things🦋 (@sashasvisuals) September 27, 2021
Lastly, Roman Reigns proved his dominance once again by defeating 'The Demon' Finn Balor in the main event. As WWE now prepares for the upcoming Draft and Crown Jewel, let's look at five things we learned from Extreme Rules 2021 pay-per-view.
---
#5. Damian Priest continued his dominant reign as the United States Champion at Extreme Rules 2021
Damian Priest retains his United States Championship then celebrates with Jeff Hardy.

This was a great moment.🔥#ExtremeRules #DamianPriest #JeffHardy #WWE pic.twitter.com/fCX7n8bNy8

— Combat Academia (@CombatAcademia) September 27, 2021
The United States Championship match at Extreme Rules saw Damian Priest defend his title against Jeff Hardy and Sheamus. It was the only triple-threat match on the card.
The bout contained some of the best wrestling spots of the night. We saw Damian Priest saving Jeff Hardy from Sheamus' Clover Leaf submission, and Jeff Hardy hitting both opponents with the Twist of Fate. However, Damian managed to pick up the win after a roll-up on Sheamus.
After the match, Priest and Hardy shook hands as a sign of respect. At Extreme Rules, all three stars pushed each other's limits and performed in a hard-hitting battle.
It's now clear that the young talent in Damian Priest will hold on to the United States Title for some more time. If Sheamus is finally done with Damian Priest, we will see some fresh challengers for the coveted United States title. As of now, it looks like the United States Championship Open Challenges will continue!
#4. Extreme Rules 2021 marked the end of Alexa Biss' 'Lilly'
This has really hurt me 😭😭😭 #ExtremeRules #AlexaBliss pic.twitter.com/yeK1iOUNua

— ✨JamieDRFC✨😈 Alexa bliss Fan Account 😈 (@ItsJamieDrfc96) September 27, 2021
The Raw Women's Championship match at Extreme Rules saw Charlotte Flair successfully retain her title against Alexa Bliss. After a very physical contest, Flair defeated Bliss using a Natural Selection.
After the match, Charlotte tore-apart Lilly, who was a significant part of Bliss' current character. Bliss tried to avenge Lilly, but Charlotte took her down. After Charlotte walked out, Alexa was seen crying in the middle of the ring as fans chanted 'Thank You Lilly'.
Alexa Bliss' current gimmick is inspired by Bray Wyatt, who was recently released by WWE. Ending Lilly's character may be the company's attempt to erase the remnants of Bray Wyatt's character. This may be one of the reasons we didn't see Alexa Bliss use Sister Abigail at Extreme Rules.
Which version of #AlexaBliss do you prefer?? #WrestlingCommunity pic.twitter.com/WqlEopJxSO

— The Closed Fist (@TheClosedFist) September 24, 2021
On the positive side, Bliss may be bidding adieu to her current character and returning to the 'Five Feet of Fury' persona. Under this character, Bliss held multiple championships and was loved by her fans. Returning to her old persona will ensure a successful babyface run for Little Miss Bliss.
#3. Bobby Lashley lost most of his momentum at Extreme Rules 2021, set to challenge Big E on RAW
#BigE vs. #BobbyLashley for the #WWETitle has been made OFFICIAL for TOMORROW NIGHT on #WWERaw #ExtremeRules pic.twitter.com/cV5di3mAhQ

— WRESTLING MARK (@wrestlingmark00) September 27, 2021
Extreme Rules 2021 kicked off with a classic six-man tag team match as AJ Styles, Omos and Bobby Lashley wrestled The New Day. After an entertaining match, The New Day picked up the win after Big E hit Bobby Lashley with a Big Ending. It was the third pinfall for Bobby Lashley in the past three weeks.
Big E successfully cashed in his Money in the Bank briefcase on Bobby Lashley on the September 13th episode of RAW. Up until this match, Lashley's booking had been incredible. Unfortunately, The All-Mighty was pinned yet again by Roman Reigns in the following episode of RAW.
⭐ Match of the Night ⭐ #ExtremeRules 9/26/2021

The New Day vs Bobby Lashley, AJ Styles and Omoss.#WWE #TheNewday #BobbyLashley #AJStyles #Omoss #BigE #matchofthenight pic.twitter.com/G1sZadxuhB

— House of Rasslin (@HouseofRasslin) September 27, 2021
At Extreme Rules, Lashley was pinned for the third time in a row, which certainly lowers his momentum to a great extent. After the six-man tag match, Lashley challenged Big E to a WWE Championship match for tomorrow's RAW.
Big E later accepted the challenge. It's unlikely that Big E will lose his title so soon.
As of now, Lashley may be set to switch brands and move to SmackDown in the upcoming WWE Draft. Hopefully, a new brand will bring new success to Lashley.
If the All-Mighty isn't moving to SmackDown, he may just continue his rivalry with Goldberg after Extreme Rules.
#2. Sasha Banks made her monumental return at Extreme Rules 2021
See you this Friday 💣💙 #SmackDown @WWEonFOX pic.twitter.com/ZEcboZCv0Q

— Mercedes Varnado (@SashaBanksWWE) September 27, 2021
Extreme Rules 2021 saw Bianca Belair challenge Becky Lynch for the SmackDown Women's Championship. It was a fast-paced battle and both stars brought the best out of each other.
Towards the end of the match, Belair was about to hit Lynch with the K.O.D. before Sasha Banks made her way into the ring. The Boss went on to attack Belair and managed to put her down. We saw a confrontation between Banks and Lynch, after which Banks decided to attack the champ.
Bianca Belair tried to interfere in the brawl, but got hit by a Back Stabber. After taking out Belair and Lynch, Banks was seen standing tall near the prestigious SmackDown Women's Title. This was a clear signal that Sasha wants Bianca as well as the SmackDown Women's Championship.
SHES BACKKKKK! 💙💙💙💙💙 #SashaBanks #TheLegitBoss @SashaBanksWWE pic.twitter.com/yoJVls8XhB

— Chase‼️💯 (@ItsChaseBoiiiii) September 27, 2021
WWE's next pay-per-view following Extreme Rules is Crown Jewel and is scheduled to take place on October 21st. We may see Becky Lynch defend her title against Sasha Banks and Bianca Belair in a triple-threat match at the event. The next few weeks will be stacked with great promos from all three stars.
#1. Extreme Rules 2021 saw The Demon's first-ever loss on the main roster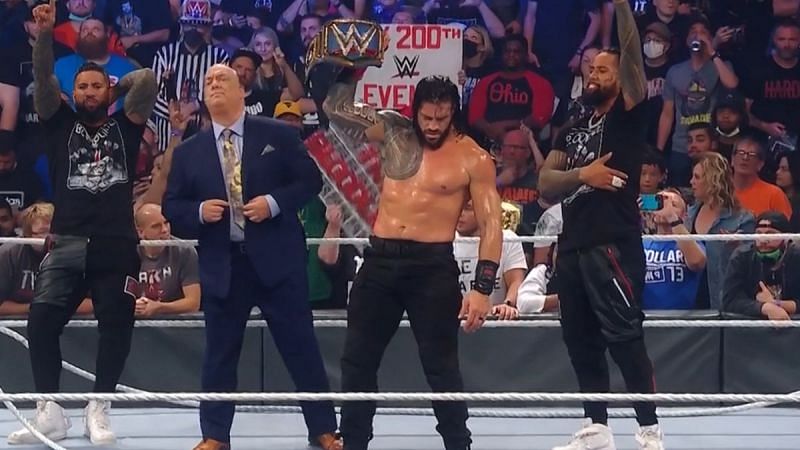 The Universal Championship was on the line in the main event of Extreme Rules. Roman Reigns and 'The Demon' Finn Balor squared off in an amazing Extreme Rules match.
The match had great pacing and huge pops from the crowd. Reigns and Balor used kendo sticks, tables as well as chairs to fight each other. Balor hit Reigns with a Coup de Grace and was about to pin him. That's when Reigns' cousins, The Usos, got involved and helped their Tribal Chief.
Only Samoan Joes can defeat The Demon Finn Balor. #ExtremeRules pic.twitter.com/Ybc3G2OqVe

— F❌DE TO BL❌CK (@BLACKXMASS_) September 27, 2021
Towards the end, the lights went red and The Demon's heartbeat thrilled the arena. The Demon was resurrected and attacked Roman Reigns with a steel chair, and put him through a table. Balor went for the Coup de Grace for the second time. However, the top turnbuckle broke out of its socket and he fell on the canvas. Reigns capitalized and pinned Balor for the three-count.
Although The Demon was once defeated in NXT, this was his first-ever loss on the main roster. It can't be called a clean loss, as the ring malfunctioned and The Usos interfered during the contest. It's currently unclear what's next for Finn Balor. Roman Reigns is set to defend his title against Brock Lesnar at Crown Jewel 2021.
---
How was this pay-per-view in your opinion? Watch us as we review Extreme Rules 2021 on YouTube!