WWE SmackDown Flops and Hits: John Cena steals title match against Roman Reigns, big blunder with Finn Balor, Sasha Banks returns (30 July, 2021)
Thus, the highly-anticipated title match between Roman Reigns and John Cena at SummerSlam is now technically official. This match has been in the making for years. There are several reasons why Reigns needs to beat Cena at SummerSlam 2021, but that victory wouldn't be enough.
He needs to look convincingly good when he stands across from John Cena during promo wars on WWE SmackDown. It is a massive challenge for Roman Reigns but one that he desperately needs to overcome.
2 Flop on WWE SmackDown: Potential mistake with Finn Balor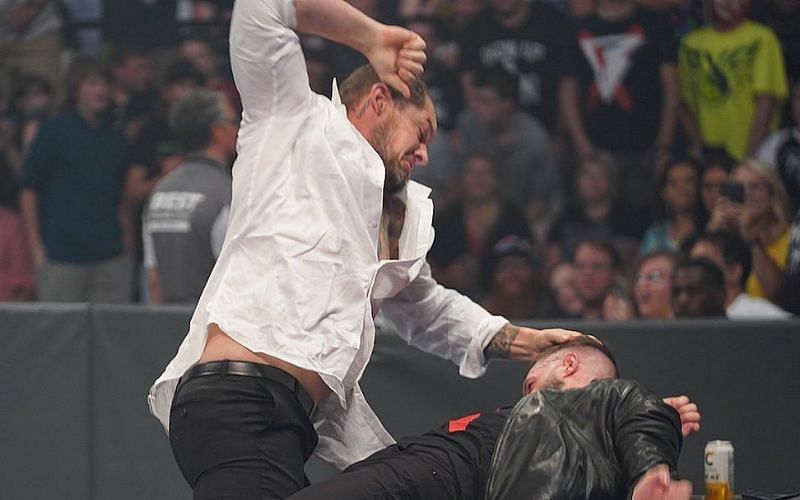 The contract signing on WWE SmackDown was both chaotic and amusing. However, there is one serious aspect that the creative team cannot afford to ignore. As mentioned before, Baron Corbin attacked Finn Balor before he could sign the contract for the Universal Championship against Roman Reigns. Now that John Cena has replaced Balor, what's next for The Prince?
It would be a horrible decision to eliminate Finn Balor from the Universal Championship picture in this manner. He is a deserving superstar who can work wonders with the title feud against Roman Reigns on WWE SmackDown. The best way to book him going forward would be to have him face Corbin at SummerSlam and then face Reigns at the next pay-per-view.
As we discuss Finn Balor on WWE SmackDown, it is essential to note one subtle yet beautiful moment. Reigns told Balor that he would "stack him, pin him, and send him back to NXT." The Prince hit back, saying that "it would be his honor to return to NXT with the Universal championship."
With everything said and done, it was great to see Finn Balor stand up against the literal (and often metaphorical) disrespect towards WWE NXT on the main roster.
#3 Hit on WWE SmackDown: Sasha Banks returns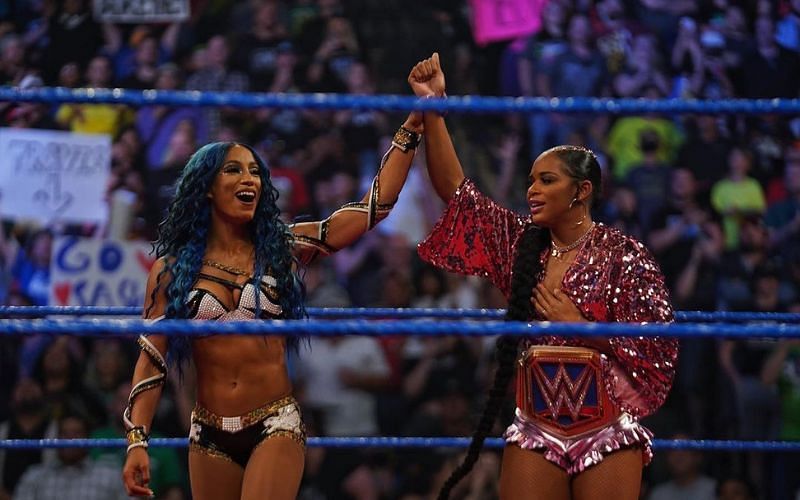 The biggest surprise on tonight's WWE SmackDown witnessed the return of six-time women's champion Sasha Banks. This was The Boss' first appearance on the Blue brand since losing the women's championship to Bianca Belair at WrestleMania 37.
It all started when Carmella asked for another shot at the WWE SmackDown Women's Championship. Soon, Zelina Vega walked out and demanded she should be next in line. Belair even agreed to the challenge, but Vega and Carmella ruthlessly attacked her. Sasha Banks then ran to the squared circle to save Belair while the entire arena rose to its feet to welcome the former champion.
Banks took out both Vega and Carmella before hugging Belair, a subtle nod to their historic moment at WrestleMania. She returned for WWE SmackDown's main event, where she teamed up with Bianca Belair to take on Carmella and Zelina Vega in a tag team match.
All four superstars delivered good performances, but Banks outshone everyone else inside the ring. Banks forced Carmella to submit to the Bank Statement to pick up a victory following an entertaining match.
She celebrated with Belair for a couple of minutes before hitting the champion with a backstabber. Banks continued to lay out a vicious attack on Belair before raising the WWE SmackDown Women's Championship in the air.
Banks might finally get her title rematch against Bianca Belair, and both superstars could face each other at SummerSlam. Hopefully, we will see them engage in an intense feud on WWE SmackDown in the coming weeks.
#4 Flop on WWE SmackDown: Reggie's title defense
Reggie returned on WWE SmackDown tonight as the 24/7 Champion and faced Chad Gable in the title match. Their match started well and allowed both superstars to showcase their respective strengths. However, their bout ended with an unnecessary disqualification when Otis interfered and attacked the champion.
Now, the creative team's idea behind the booking might have been good. Their intention could have been to give television time to both Reggie and Gable while simultaneously highlighting Otis' newfound aggression. However, it wasn't necessary to jeopardize a good match on WWE SmackDown.
Otis could have attacked Reggie after the match, and it would still have been a believable heel move. Moreover, the interference made Gable look weak. The Alpha Academy should be actively competing in the tag team division of WWE SmackDown. But if they will be involved in 24/7championships matches, then at least the writers should protect their credibility until their next feud.
Reggie's title reign with the 24/7 championship is not that bad. He has delivered engaging performances inside the ring and is bearable on the mic since he lost his French accent. A few good matches on WWE SmackDown and RAW can undoubtedly help elevate his current position on the roster.
#5 Hit on WWE SmackDown: Dominik Mysterio gets the perfect payback
This week on WWE SmackDown, Rey Mysterio faced Jimmy Uso in an entertaining match. The one-half of The Usos was pinned tonight after Dominik borrowed a page from the reigning tag team champions' book. Rey Mysterio and Jimmy first engaged in a well-balanced encounter with their respective teammates present at ringside.
Rey Mysterio then dropkicked Jimmy Uso to set up the 619, but Jey Uso pulled his brother out of the ring just in time. The masked legend still took out both WWE SmackDown Tag Team Champions with a creative dive over the top rope. He dragged Jimmy back inside the ring to set up another 619, but Jey took the blow instead.
Jimmy Uso tried to fight back into the match with a Samoan Drop, but Rey Mysterio hit with a beautiful counter and brought down his opponent for a Crucifix pinfall. Dominik slyly entered the ring and pressed both his legs against his father's back to help reinforce the pin. Thus, he used The Usos' trick against them to help Rey Mysterio pick up an essential win on WWE SmackDown.
Rey and Dominik Mysterio can use this victory to continue their title feud with The Usos until SummerSlam 2021. The two teams have been feuding for the WWE SmackDown Tag Team Titles for the past couple of months and can deliver an exciting match at the upcoming pay-per-view. The storytelling has been excellent so far, and Dominik's trick accounted for an incredible swerve.