SmackDown Results: Sasha Banks returns; Roman Reigns' real SummerSlam opponent revealed
John Cena kicked off SmackDown and gave us a recap of what happened last week up to the point where Roman Reigns accepted Finn Balor's challenge. He said that Roman proved he was scared of Cena by refusing his proposal for SummerSlam.
Cena said the WWE Universe was done caring about Roman; which is why he needed to change his gimmick so often, unlike himself.
Baron Corbin showed up and said that he was down bad and asked John for help. Cena asked the audience if he should help and the crowd provided a mixed response. Cena gave Corbin some money but Corbin wanted more, like a movie job.
Cena refused and Corbin called him a Hollywood sellout. Cena hit Corbin with an Attitude Adjustment before walking out on SmackDown.
---
Jimmy Uso vs. Rey Mysterio on SmackDown
Mysterio had the upper hand early in the match and got a near fall off a hurricanrana and a bulldog from the corner. Uso was sent outside before Rey missed a dive over the ropes and walked into a superkick.
Back after a break on SmackDown, Uso was in control but missed a superplex before Rey hit a senton and a crossbody for a near fall. Jimmy was set up for the 619 but Jey saved him from ringside. Rey hit a dive over the ropes onto both The Usos.
Rey set both Usos up for 619s on either side of the ring and hit the move on Jey but Jimmy countered him. Jimmy went for a Samoan Drop but Rey reversed it and pinned Uso with the help of Dominik on SmackDown.
Result: Rey Mysterio def. Jimmy Uso
Grade: B
---
Bianca Belair was out next to celebrate 110 days of her championship reign. Carmella walked out and reminded us that she held that same title for 130 days at one point, asking for a rematch.
Sasha Banks returns to SmackDown
Zelina Vega came out on SmackDown and mocked both Carmella and Belair, before challenging Bianca to a title match. Carmella attacked the EST Of WWE from behind and Vega joined her as they beat up Belair.
Sasha Banks returned for the first time since WrestleMania 37 and beat Carmella and Vega up, saving Belair.
---
Reginald was backstage and said that he preferred being called Reggie and that he had a 24/7 title match tonight.
---
Reginald vs. Chad Gable on SmackDown
Otis tackled Reggie to the floor before the match started. The 24/7 Champ managed to bounce around and avoid Gable's early attacks but took a big suplex for a near fall.
Reggie avoided a few clotheslines with incredible agility before Gable was able to hit a German suplex. At the top rope, Reggie countered an avalanche German Suplex and hit a running rolling senton.
Before he could pin Gable, Otis knocked him off and tossed him aside, causing the match to end in a disqualification.
Result: Reginald def. Chad Gable via DQ
Grade: C
---
Finn Balor and Roman Reigns were out next for the SummerSlam match contract signing.
Roman Reigns and Finn Balor were out with Heyman, Pearce, and Deville in the ring and the crowd chanted Cena's name on SmackDown. Roman fired off against Cena and pointed out that the former WWE Champion implied Balor was not as good as him.
Roman threatened to send Balor back to NXT before he signed the contract. Finn said that he will love to return to NXT as Universal Champ before Baron Corbin attacked him from behind.
Corbin stole the contract and Cena came out, taking out The Lonewolf and signing in place of Finn Balor in the SummerSlam match contract before walking off.
---
Backstage, Paul Heyman asked Pearce and Deville what would happen at SummerSlam. Pearce said there was nothing they could do to change the contract now.
---
Big E, Cesaro & Shinsuke Nakamura vs. Apollo Crew & the Dirty Dawgs on SmackDown
Big E kicked off the match against Crews and was sent outside early on by Apollo where Ziggler and Roode wiped him out with a Spinebuster – Zigzag combo. Back after a break on SmackDown, Cesaro was tagged in and got a near fall on Ziggler.
Big E, Cesaro & Shinsuke Nakamura vs. Apollo Crew & the Dirty Dawgs on SmackDown (contd…)
Cesaro hit the swing on Ziggler before going for the sharpshooter on SmackDown. But Roode helped him get to the ropes to break the hold. Shinsuke came in and took a Zigzag before Roode came in for a spinebuster on Cesaro.
Apollo was in and got a near fall on Shinsuke when Boogs started playing guitar as a distraction. Cesaro took out Azeez after Azeez wiped out Boogs and Ziggler and Roode joined in as well. In the ring, Nakamura hit the Kinshasa and pinned the Intercontinental Champion.
Result: Big E, Cesaro & Shinsuke Nakamura def. Apollo Crew & the Dirty Dawgs
Grade: B
---
Edge attacked by Seth Rollins on SmackDown
Edge was making his entrance when Seth Rollins attacked him, wiping him out at ringside and attacking him with a TV camera. Seth then got in the ring and said that Edge had taken his title shot and Rollins was out for revenge.
Rollins said that if he can't be the Universal Champ, neither can Edge, before walking out.
Bianca Belair & Sasha Banks vs. Carmella & Zelina Vega on SmackDown
Mella and Banks started off the match on SmackDown and Banks was sent into the corner early on. Vega and Belair joined the bout and Bianca lifted Sasha and dropped her on their opponents outside.
Zelina and Carmella isolated Bianca and Vega locked in a submission move that Bianca reversed into a backbreaker. Banks was tagged in and she hit a Meteora on Vega before hitting the three amigos suplexes and going up top for a splash. But Carmella broke the pin with a superkick.
Banks hit the backstabber and Banks Statement on Carmella after Belair took Vega out. Mella tapped out and Banks picked up the win for the team on SmackDown.
Result: Bianca Belair & Sasha Banks def. Carmella & Zelina Vega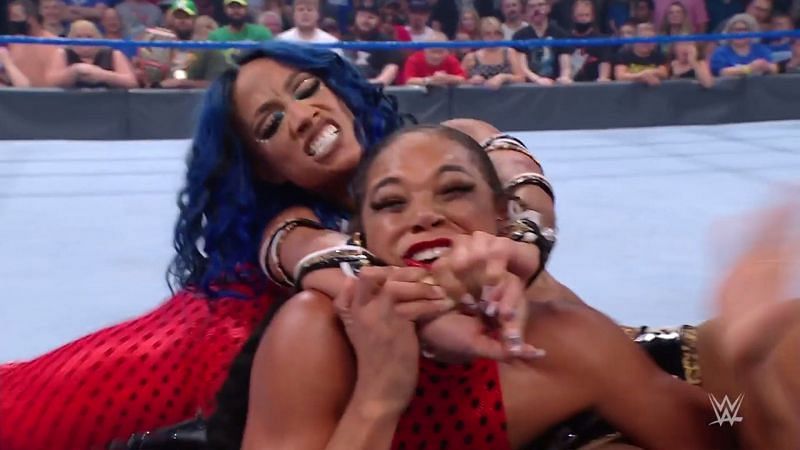 After the match, Sasha hit the backstabber to Belair and took her out before locking in the Bank Statement. Belair passed out and Sasha posed with her title before locking in the Banks Statement again as SmackDown went off the air.
Grade: A
---
Episode grade: A
Cena and Edge both showed up on tonight's SmackDown, setting up feuds with Roman and Rollins while Finn Balor got booted from the main title picture for now.
Sasha Banks returned on tonight's SmackDown and Reggie defended his title for the second time.