Errors occur on Talking Smack; Paul Heyman and Seth Rollins respond
Paul Heyman issued an in-character apology on behalf of WWE after Daniel Bryan appeared in a video package on the latest episode of Talking Smack.
This week's WWE SmackDown ended with Roman Reigns retaining his WWE Universal Championship against Bryan. As per the match stipulation, Bryan has now been banished from the blue brand.
SmackDown post-show Talking Smack is hosted by Heyman and Kayla Braxton. Heyman, who serves as Reigns' on-screen special counsel, pointed out that Bryan should not appear on any SmackDown-branded shows.
"Ladies and gentlemen, I apologize to you," Heyman said. "You should not have been exposed to Daniel Bryan, even in commercial form, because Daniel Bryan does not exist on any SmackDown-branded property anymore. That is thanks to the accomplishments and the achievements of your Tribal Chief, your Universal Champion, Roman Reigns.
"I apologize publicly to you, sir [Talking Smack guest Seth Rollins], a visionary whose entrance onto our set was ruined by the fact that you had to follow such an egregious production error as to put Daniel Bryan on this weekend when his a** does not belong on SmackDown anymore," Heyman continued.
Paul Heyman was not alone in mocking Daniel Bryan after Friday's episode of WWE SmackDown. Roman Reigns took to social media to aim several digs at his long-term rival in a video message.
Seth Rollins joined Paul Heyman in complaining about Talking Smack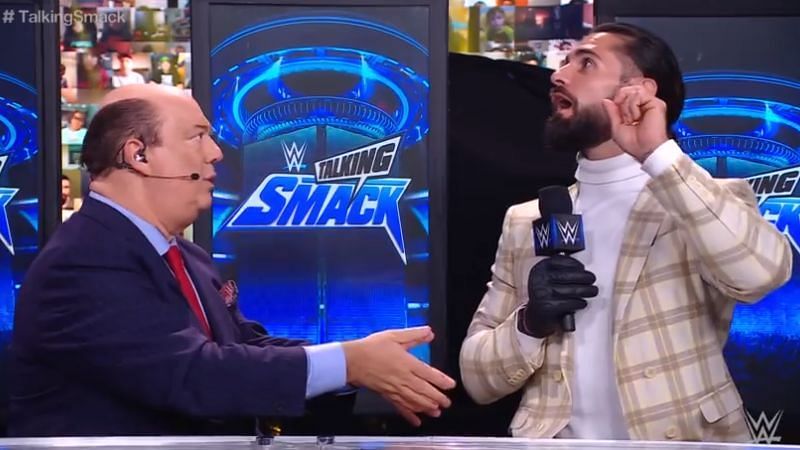 As Seth Rollins entered the Talking Smack set, his old "Burn It Down" music played instead of his new "Embrace The Vision" theme.
Paul Heyman asked Rollins if he had seen the commercial with Daniel Bryan. Rollins confirmed he did see the commercial, but he also had his own complaints about his entrance theme.
"Oh, I thought you were gonna talk about them playing my OLD music," Rollins said. "Old music! But yes, I did see the commercial. Yes, on Talking SMACK."
WWE's production team played Seth Rollins' new music at the end of the segment. Paul Heyman also gave Rollins an open invitation to appear on Talking Smack whenever he wants.