Seth Rollins has a message for Roman Reigns ahead of WrestleMania 37
Seth Rollins has revealed he plans to target Roman Reigns' WWE Universal Championship again one day.
Following last week's SmackDown, Rollins said on Talking Smack that Reigns is one of the few WWE Superstars on the same level as him. Earlier this week, the four-time WWE World Champion added in an out-of-character interview with Complex that another rivalry between himself and Reigns is "inevitable."
Speaking to WWE Now India, Rollins said his ultimate aim is to regain the WWE Universal Championship.
"Well, you know, I can't divulge all of my secrets, but I will not lie when I'm saying that that [winning the WWE Universal Championship] is my ultimate goal, but I've gotta strike at the right time. You know better than anybody that I am an opportunist, I am a schemer, I am a planner, I am a genius… some would say a genius when it comes to these things, and so I will strike at the right time."
Seth Rollins will go one-on-one with Cesaro at Saturday's WrestleMania 37 event at Raymond James Stadium in Tampa, Florida. Meanwhile, Roman Reigns is set to defend the Universal Championship against Daniel Bryan and Edge in Sunday's main event.
Roman Reigns and Seth Rollins' WWE history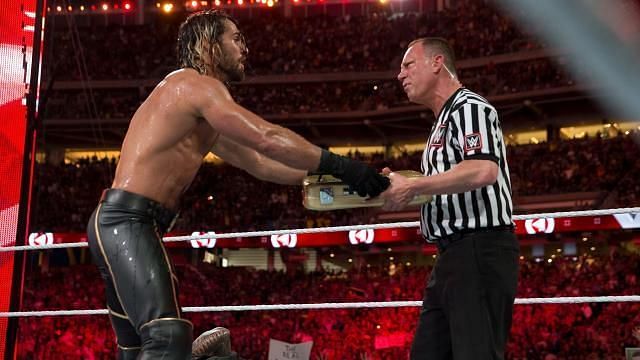 Along with Dean Ambrose, Roman Reigns and Seth Rollins debuted on WWE's main roster as villainous group The Shield in November 2012. The trio separated in June 2014 after Rollins attacked his fellow Shield members on RAW.
The most memorable moment from the Reigns vs. Rollins rivalry took place at WrestleMania 31. Reigns looked on course to defeat Brock Lesnar in the main event to win his first WWE World Heavyweight Championship. However, Rollins cashed in his Money in the Bank contract and pinned Reigns to win the title.
Another key moment between Roman Reigns and Seth Rollins occurred at WWE Money in the Bank 2016. Rollins defeated Reigns to win the WWE World Heavyweight Championship in the main event. Moments later, Dean Ambrose cashed in his Money in the Bank contract to win the title from Rollins.