At WrestleMania 37, Edge will battle Roman Reigns and Daniel Bryan in a triple threat main event on Night Two. Ahead of the event, Edge has opened up about how this was not the original plan. Speaking on a WrestleMania 37 press call, Edge revealed that his injury at Backlash 2020 scuppered the initial planned match between himself and Randy Orton. "It seemed to change everything. It was me and Randy at WrestleMania, me and Randy at WrestleMania, me and Randy at WrestleMania, that's what my working plan was the whole time. Until I was told that it wasn't the company's plan." "I fought and I ripped my career right back out of fate's hands!"@EdgeRatedR is locked in ahead of his #UniversalChampionship match at #WrestleMania! #SmackDown pic.twitter.com/ih7Y48UQF0— WWE (@WWE) April 10, 2021 Edge continued: "I was pretty disappointed. I really wanted to – I just felt like, the story deserved that. So when I found out that wasn't on the dock anymore, I was like "okay, so then, what?", and it's worked out the way it has, which is obviously very exciting. And honestly… look, I go from thinking I'm wrestling Randy Orton at WrestleMania, which is a dream, to wrestling Roman Reigns and Daniel Bryan at WrestleMania for the Universal title. That's a dream, too."Edge hit an intense promo on the SmackDown WrestleMania special "You have NO IDEA the pain that I have gone through to get this back!!"#SmackDown #WrestleMania @EdgeRatedR pic.twitter.com/0RUUR6DuD5— WWE (@WWE) April 10, 2021 This week's SmackDown was the final opportunity to hear from competitors in the WWE Universal Championship match. On the show, all three men had time to make their case for becoming the next champion in Sunday's main event. Royal Rumble winner Edge hit out at his opponents on the show, placing attention on his goal to win the title, and what he had to grow through to get to where he is right now in WWE. Do you think that Edge will be taking home the gold at WrestleMania 37 this Sunday? Would you have liked to see him face Randy Orton at the Show of Shows? Share your thoughts in the comments below.
CaZXL and nZo, formerly known as Big Cass and Enzo Amore in WWE, recently had a chat with Sportskeeda Wrestling's Jose G about various topics. CaZXL made his in-ring comeback for Lariato Pro Wrestling towards the end of February 2021.
The former WWE star looked incredible, and many fans believe he is currently in the best shape of his life.
CaZXL talked about how he got into shape for his recent return. The star did not foresee a professional wrestling comeback for himself until around five months ago. IMPACT Wrestling's Doc Gallows played an important role in facilitating CaZXL's return to professional wrestling.
Here is what CaZXL had to say about getting into shape for his recent comeback:
"The gym is very important to me, mentally and in my sobriety, so I was going to the gym pretty consistently. But, I didn't forsee me coming back to wrestling until about five months ago. I spoke to [Doc] Gallows and he said he'd have a spot for me on one of hi shows, so I started working out super hard, twice a day, and I've been busting my a** man. I'm keeping my diet really, really clean. My girlfriend cooks a lot of my meals for me."
The man who is formerly known as Big Cass also gave a shoutout to his girlfriend, and nZo delivered a witty response — "Smart man."
CaZXL credited both his diet and his time in the gym as the reasons behind his impressive physique:
"It's the diet that's been great, that's been helping me. But yeah, I've been working out."
It is important to note that this is Big Cass and Enzo Amore's first interview together since they left WWE. nZo was also present at the Lariato Pro Wrestling event where CaZXL made his comeback.
---
Big Cass and Enzo Amore were released from WWE a few months apart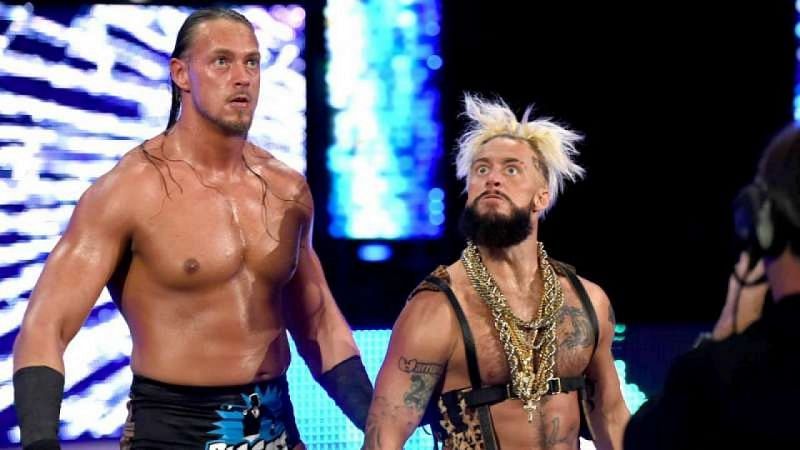 Although Big Cass and Enzo Amore were among the most popular WWE tag teams of their generation, they surprisingly did not win any championship gold as partners.
Their tag team pursuits lasted from 2013 to 2017. They split in 2017 when Big Cass was revealed to be the mysterious assailant who jumped Enzo backstage on WWE RAW.
While Enzo Amore was released from the company in January 2018, WWE released Big Cass a few months later in June. The two stars have been part of the independent wrestling circuit since they left WWE.